We do our best to give you all information you need. Use the Search menu to search for the page you are looking for. The most used pages are on the side menu or in the Popular Pages page.

Do you miss important stuff or do you have suggestions? Let us know via Discord or Forums. Thank you for using our Wiki!

Main page/Bestiary/Monster list/Monsters S/Sand crab
From GrinderScape Wiki
Sand Crab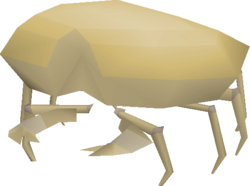 General Information
Sand Crabs are aggressive monsters that look like harmless sandy rocks while disguised, but attack when walked by. They are found along the southern coast in Hosidius, Crabclaw Caves, and Crabclaw Isle. No favour is required to access or kill them and are available to all players.