We do our best to give you all information you need. Use the Search menu to search for the page you are looking for. The most used pages are on the side menu or in the Popular Pages page.

Do you miss important stuff or do you have suggestions? Let us know via Discord or Forums. Thank you for using our Wiki!

Main page/Bestiary/Monster list/Monsters S/Skeletal wyvern
From GrinderScape Wiki
Skeletal Wyvern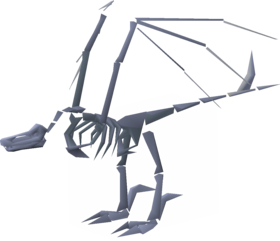 General Information
Skeletal wyverns are Slayer monsters that require a Slayer level of 72 in order to be harmed. They are found at the end of the Asgarnian Ice Dungeon. Like other wyverns, they require an elemental shield, mind shield, dragonfire shield, dragonfire ward, or ancient wyvern shield to reduce damage from their icy breath; however, it is not required to be slain.