We do our best to give you all information you need. Use the Search menu to search for the page you are looking for. The most used pages are on the side menu or in the Popular Pages page.

Do you miss important stuff or do you have suggestions? Let us know via Discord or Forums. Thank you for using our Wiki!

Main page/Bestiary/Monster list/Monsters W/Werewolf
From GrinderScape Wiki
Werewolf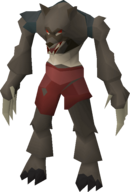 General Information
The werewolf is commonly killed for combat training and slayer tasks. The werewolf has a very accurate max hit. Melee prayer or high healing foods are suggested.
There are 2 different types of Werewolfs. The second species can be forund in God Wars Dungeon.