Welcome to the GrinderScape Wiki. We do our best to make your life easier.

Use the Search menu to search for the page you are looking for. The most used pages are on the side menu or in the Popular Pages page.
Main page/Guides/General guides/Achievements
From GrinderScape Wiki
General
In Grinderscape there are 25 Achievements currently that you can do, with varying rewards depending on the diffilculty. They will be listed in the order shown in the interface.
To see what Achievements there are in-game, go to the Quest Tab, and click the Green Star:
Achievements
Need Food
Easy Kill
Sad Death
Jad Hunter
Monster Killer
Need Fur
Killing Them
Chop Chop
Ez Jad
Monster Murderer
Need Gem
Clearing Them
Chopping Away
Jad Head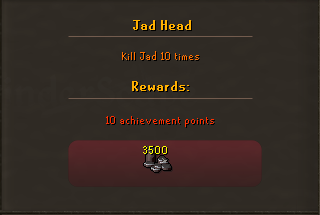 Monster Passion
Sip Some Tea
The Chosen One
Axe Does It
Jad Stinks
Monster Obliterator
Prepare For War
The Saviour
Trees Are Life
Jad Is Dead
I Did It My Self
Shop
Currently there isn't a shop in-game for you to spend your Achievement Points.