We do our best to give you all information you need. Use the Search menu to search for the page you are looking for. The most used pages are on the side menu or in the Popular Pages page.

Do you miss important stuff or do you have suggestions? Let us know via Discord or in-game. Thank you for using our Wiki!

Main page/Bestiary/Monster list/Monsters S/Steel dragon
From GrinderScape Wiki
Steel dragon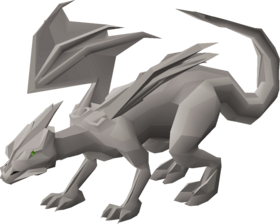 General Information
Steel dragons are powerful dragons found in the Brimhaven Dungeon and the Catacombs of Kourend. Steel dragons are the fourth strongest metallic dragons, behind mithril, adamant and rune dragons. They have a chance of dropping the draconic visage. Like their fellow metallic brethren, steel dragons can use long-range dragonfire in addition to using melee.